**** (4/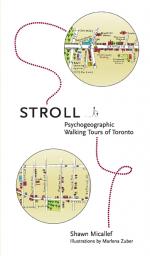 5)
I'm a big fan of this book! I picked up a copy at the Coach House Wayzgoose party and soon started to read it on my streetcar rides to work. What a great way to read about the city, as you drive through different neighbourhoods that are described in the book you're reading.
Shawn Micallef describes various 'walks' through areas of Toronto, giving historical or trivial detail about the buildings & sites, past and present. It's a similar experience to going on a guided walking tour, only this time you re-create images of the city in your head.
It definitely helps if you are fairly well acquainted with Toronto's various neighbourhoods. I admit I turned first to the walks in the areas I'm most familiar with. In that respect, it's really a book for Torontonians only. I would not recommend this to anyone who hasn't lived here. But, if you do live in Toronto, and enjoy the flaneur experience – this is the book for you!