This weekend I had the pleasure of being a tourist in my own city. It's actually a lot of fun because you can avoid the hassles of being totally lost, not understanding transit systems and not finding a great place to eat out.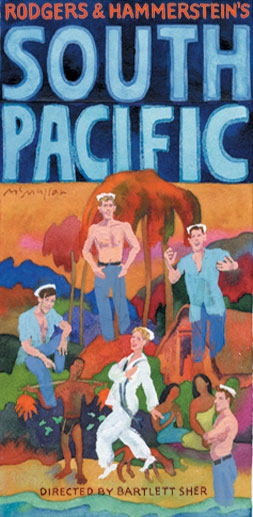 Other than the hilarious & awesome Hippo Tours (the tour bus becomes a boat and tours Lake Ontario!), we also took in South Pacific at the Four Seasons Centre of the Performing Arts. The Rodgers & Hammerstein wartime musical is a wonderful mix of light-hearted comedy and a serious look at love and racial tensions. I highly recommend the production itself, with its elaborate sets and great period costumes, that fit very well in the beautiful venue. It was worth the price of admission just to see the fabulous glass- and wood-filled architecture of the Four Seasons Centre.
For me, the actors have a huge role in making a performance a success. My favourite actors onstage were Carmen Cusack and Matthew Saldivar in the roles of Nellie Forbush and Luther Billis. Cusack has a tremendous voice, both sweet and powerful, and was a lively Nellie. Billis is a comical character and Salvidar fulfilled the character's potential, drawing several laughs from the audience. Jason Howard, in the lead role of Emile de Becque, was the only drawback for me. Howard is a Welsh opera star and has an amazing, deep voice and carries notes with clarity and steadiness. But Howard gave a stilted performance and, the real kicker, his French accent sounded more like Arnold Schwarzenegger with a cold. It was difficult to find the romance between Nellie and Emile charming with "the Frenchman" drawling in an Austrian accent.
I left the theatre impressed and humming the catching tune "Bali Ha'i". I would urge lovers of musical theatre to see South Pacific. An added bonus for Torontonians, anyone with a TTC metropass can get a twenty per cent discount on tickets for their whole party!