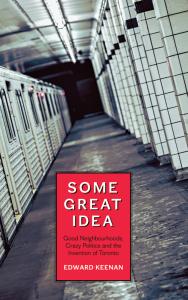 Read this book if you live in Toronto. City politics reporter Edward Keenan has unveiled his analysis of Toronto since amalgamation, examining how neighbourhoods have grown and how they respond to different policies and developments based on their unique circumstances. Framed by this primer on urban development comes Keenan's analysis of the three mayors since amalgamation: Mel Lastman, David Miller and Rob Ford.
While Keenan is no fan of Rob Ford, he gives what I see as a fair, almost magnanimous, analysis of Ford's strengths and weaknesses as mayor. If you want to understand Rob Ford, and why he was elected, read this book!
Fun stuff!
Take the quiz. (Hint: only take this after you've read this book unless you think you're a real Toronto trivia smartypants!)
— Some Great Idea: Good Neighbourhoods, Crazy Politics and the Invention of Toronto by Edward Keenan is published by Coach House (book page) in 2013.